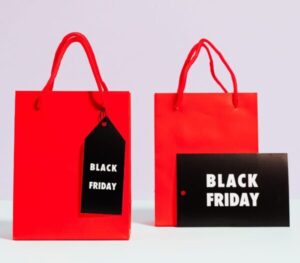 With everyone purchasing both essential and non-essential items online during the last year and a half, it's no wonder all trends are pointing to an exploding e-commerce sector that doesn't show any signs of stopping. What is even more interesting, is that these same consumers are now exclusively purchasing the products they love online with high average order values.
Studies of online shopping behaviour indicate that consumers are now, more than ever, engaging directly with and purchasing from the brands they've been exposed to online. They are seeking out shopping and shopping comparison sites to price match, searching for promotions, sales, coupons, and deals, and reading reviews and content that provide insights into the products they want to purchase.
Black Friday/Cyber Monday online spending has hit a new record with consumers spending $9.0 billion, an increase of 21.6% year over year making digital advertising during Black Friday the Superbowl of the e-commerce world.
So how do you capture and convert these online shoppers during the e-commerce peak season of Q4. 
As an e-commerce brand, how do you get ready to harness this lower funnel traffic and get new customers shopping at your store during Black Friday, Cyber Monday, and the holiday season? Read on!
1. Plan & Start Early
Run "Pre-Black Friday" sales and promotions. Small incentives like Free Shipping, or a $5.00 off promotion, or flash sale can help to drive brand awareness and conversions from new customers. Pre-plan your BF/CM/Holiday deals and sales, so that all you have to do is activate your promotions and reap the benefits!
2. Put Together a Meaningful Promotional Campaign
Not all deals have to be a monetary coupon. Try free gifts with a purchase or bundles that introduce consumers to more of your products and build brand loyalty without attaching a discount. Make use of your email lists – give your subscribers exclusive incentives or even a quick reminder that you have a sale coming will keep your brand top of mind.
3. Optimize Your Current Campaigns
Analyze your return on your digital campaigns. See if there's any way you can optimize your spend across your existing channels – take a look at audience profiles and see if you're able to capitalize on any of the data, remove any channels that aren't performing. Ensure your budget  is being maximized.
4. Test New Channels Before Q4
Finding new channels (platforms) outside of your current mix can drive brand awareness and conversions from active shoppers who are researching products, looking for promotions or sales, or comparing pricing on shopping sites. Testing retargeting and brand awareness campaigns featuring sales, mark-downs, incentives and coupons can also see a high level of return during this time as well. Sign up to SourceKnowledge to build out your mix for Q4!