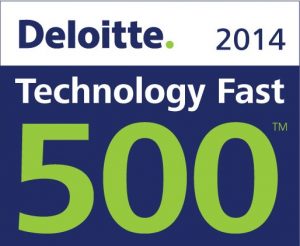 SourceKnowledge, a market leader in programmatic video advertising, today announced it ranked 161 on Deloitte's Technology Fast 500™. The award celebrates the 500 fastest growing technology, media, telecommunications, life sciences and clean technology companies in North America based on percentage growth over a five year period. SourceKnowledge grew 655% percent between 2009 to 2013.
SourceKnowledge President and Co-Founder, Patrick Hopf, credits revenue growth with increased demand for digital video content, platform diversification, and SourceKnowledge's powerful Smart Bidder RTB technology. Hopf said, "We are honored to be recognized by Deloitte as a fast growing and innovative company. Online video advertising presents a massive opportunity for brands and advertisers to reach consumers no matter where they consume media online. SourceKnowledge's self-serve programmatic platform provides an easy and affordable system that enables those brands and advertisers to engage with audiences across any device. We believe mobile is the future of our industry and we are thrilled that we were able to grow our mobile impressions by more than 12 million in the last year."
"Technology Fast 500TM winners achieve success and strong growth as a direct result of their leadership and commitment to innovation," said Pascal Lamoureux, Partner and Leader for Deloitte's Fast 50 program. "They make significant contributions to the evolution of the technology industry."
In 2014, SourceKnowledge experienced exponential growth in more than just mobile reach. SourceKnowledge increased desktop video ads served by 584 million impressions from 2013 to 2014. Potential reach, based on comScore media metrix, increased by 1314% in the US, and by 1277% in Canada. In September 2014, comScore announced SourceKnowledge ranked 13th on their list of top buy side networks.
About Deloitte's 2014 Technology Fast 500TM
Technology Fast 500TM, conducted by Deloitte & Touche LLP, provides a ranking of the fastest growing technology, media, telecommunications, life sciences and clean technology companies – both public and private – in North America. Technology Fast 500TM award winners are selected based on percentage fiscal year revenue growth from 2009 to 2013.
In order to be eligible for Technology Fast 500TM recognition, companies must own proprietary intellectual property or technology that is sold to customers in products that contribute to a majority of the company's operating revenues. Companies must have base-year operating revenues of at least $50,000 USD or CD, and current-year operating revenues of at least $5 million USD or CD. Additionally, companies must be in business for a minimum of five years, and be headquartered within North America.
About SourceKnowledge
SourceKnowledge is a leading programmatic marketplace for video advertising with 250 million uniques in North America. Brands and agencies trust SourceKnowledge to offer the largest video ad inventory, ensure brand safety and viewability, as well as deliver at scale on desktop, mobile devices and Connected TV. Founded in 2009, SourceKnowledge is a Top 20 ranked video ad marketplace (comScore, AdFocus Report 2014) located in Montreal and Vancouver with clients around the world