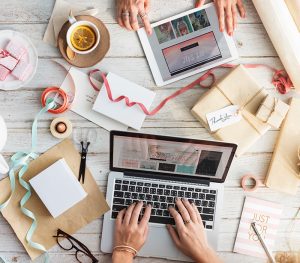 Retargeting is something every marketer must include in their campaigns due to the broad reach and improved click-through rates (CTR) retargeted ads have as compared to standard display ads. However, while you may be tempted to purchase ads based on a CTR basis, which charges you according to how many people click on your ads, a better approach is to look at your spend in relation to your cost-per-acquisition (CPA) rate. This metric reveals how much you spend to convert a customer throughout the buyer's journey.
CPA Is the Most Important Retargeting Metric
You can get a big picture view of the aggregate costs with CPA, rather than just looking at a single touchpoint or channel. CPA works well with retargeting because you're working on building an ongoing relationship with your prospects.
Each ad on its own may not result in a conversion, but the overall brand awareness leads the consumer to think of your brand when they're ready to make a purchase decision. If you spend your retargeting budget on a cost-per-click (CPC) basis, it's difficult to optimize the campaign.
Another benefit of using CPA as your primary performance metric is the ability to determine the campaign's impact on your bottom line. For instance, you can point to the data and see how your revenue changed as a result of your retargeting efforts. Stakeholders may not understand conversion ratios and how CPC relates to sales, but when you present CPA numbers, they will have a definite figure in front of them.
An ideal CPA varies significantly between industries, markets, demographics and other factors. Your definition of acquisition may be different from your competitor's. For example, they could consider someone signing up for a lead magnet as a lead acquisition, while you only count people who turned into customers. Your company's goals also impact this number, as an organization that's trying to limit costs may want a lower CPA than one that's focused on aggressively scaling.
Winning Strategies + Winning Metrics = Winning Campaigns
The best retargeting strategy in the world doesn't mean much if you don't measure the success of your campaigns. When you switch to CPA, you paint a clear picture of your customer's value and experience with your brand.
You learn more about your target audience, the types of ads they respond to and whether you're getting the most out of your ad spend. Take the time to document your strategies thoroughly. You want to be in a position where you can build off of previous retargeting successes and learn from your failures.
Incremental improvement requires you to track winning metrics at each step of the campaign. Ideally, you get this data in real-time or close to it, so you can quickly change course if something doesn't work the way you intended. Long-term performance tracking also generates enough data so that you can compare numbers between channels or seasons to discover new ways to achieve better results.
The winning campaign reports are your friend in meeting rooms and boardrooms. Retargeting is a highly effective way to get your company's messaging to engaged users, but you need a healthy budget to scale your campaigns. When you have hard data for your presentations, you can effectively state your case on why investing in more campaigns is the right move for the organization's digital marketing strategy.
It's time to give CPC and CTR a rest when it comes to the most important retargeting metrics. CPA makes the most sense for the majority of companies out there, and it's worth experimenting with this approach to discover the benefits.