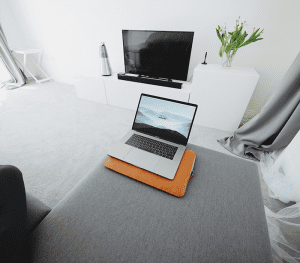 Digital marketing overtook television advertising for the first time in 2016 — and brands will continue to invest money in digital formats. By the year 2021, TV ad spend will make up less than a third of all marketing budgets. Digital, on the other hand, will account for over half of ad budgets. As TV viewership plummets — millennials, in particular, went from watching around 2 hours and 10 minutes of TV per day during the second quarter of 2016 to around 1 hour and 49 minutes during the second quarter of 2017 — companies are finally changing the channel.
The Decline of TV Advertising
TV ad spend is on the decline. Brands used to consider TV the most important marketing channel for reaching customers but as more people consume digital formats, the marketing paradigm has shifted. "Television advertising sales in the U.S. fell 7.8 percent to $61.8 billion last year, the steepest drop outside of a recession in at least 20 years, while sales at cable networks slumped for the first time in almost a decade," says Lucas Shaw, writing for Bloomberg.
There are still a few anomalies. Big sports and entertainment events — like the Olympics and the Grammy Awards — pull in big viewing numbers, but these are few and far between. Marketers are even reluctant to spend big bucks on televised NFL games. Ad revenue from in-game NFL programs on all networks dropped 1.2 percent during the 2017 regular season.
The Rise (and Rise) of Digital Advertising
If video killed the radio star, could digital kill off TV for good? Perhaps. Sixty-one percent of young adults in the United States say the primary way they watch TV is through streaming services like Netflix and HBO Go. Just five percent of millennials mainly watch TV through a digital antenna. This suggests a major shift in viewing habits over the last decade or so. The big four networks — ABC, CBS, Fox and NBC — still rule the airwaves, but young people have jumped ship. It's not just people in their teens and 20s, either. Thirty-seven percent of 30-49-year-olds watch most of their TV through online streaming platforms. This number drops to 10 percent in the 50-64-year-old age range.
Marketers can benefit from changing TV tastes. Unlike TV ads, which are unaccountable, brands personalize digital ads to different customer segments. Data-driven marketing lets companies tailor ads based on a customer's interests, preferences or buying habits. The result? Creative, curated ads that provide marketers with a return on their investment.
How to Make Money From Digital Advertising
Digital marketing is going through a golden age, so it's a good idea to strike while the iron's hot. Partnering with an ad platform gives you the best chance of success. It's a team effort, where everyone has a role to play. Together, you can reach customers at every single stage of the sales cycle using search, video and display ads.
As TV spend continues to drop, marketers spent 50 percent more on digital ads in 2017 than they did in 2016, according to one study. Perhaps in a few years, marketers will turn off their TVs for good.
Want to revolutionize your digital marketing? SourceKnowledge could provide you with a solution and will only charge you money when you make money from digital advertising. Click here to find out more.