Branding is one of the most important aspects of growing a successful company. It's what sets you apart from other businesses. It's how potential customers can identify and connect with your company. It's about communicating what you stand for and what you strive to be. And done right, it can create demand for your company's products and foster customer loyalty.
Here are a few things to keep in mind when creating a comprehensive branding plan for your company:
Clearly define what makes your company unique
What is your business all about? Sure, you provide quality products/services and strive for 100 percent customer satisfaction. Dig a little deeper. How is your enterprise different from other companies? How does your organization offer a better customer experience than its competitors?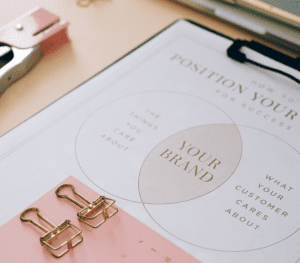 Put yourself in the shoes of your customers and really think about the things that you want them to see in your business. What are your corporate values? 71% of consumers in a recent study by 5WPR said they want to buy from companies with values that matter most to them. Spend some time crafting a strong company brand and refer to it frequently to make sure you're staying true to your vision.
Find your voice
Choosing an appropriate voice for your business (and sticking to it) will give your brand a strong identity. Do you want your company's messages to be conversational, or do you want your brand to have a more professional tone? Do you want to sound formal or informal? Your voice should reflect your mission and purpose, and it needs to really resonate with your audience across all of your marketing channels, including social media.
Does your company have a unified logo and color scheme? Everything from your company's website to advertising to social channels and printed marketing materials should have a unified look and feel. Even photography needs to fit a brand's identity, so make sure you have standards in place before moving forward with any marketing or advertising efforts.
Develop brand recognition
Now it's time to build on a solid brand idea. That's our specialty! At SourceKnowledge, we help stores successfully reach in-market shoppers on comparison shopping engines, channel-driven content sites, in-text ads, native placements, influencers and deal sites. It all adds up to more visibility for your brand, where it matters most. Let us help you develop your company's unique brand. Visit our website to learn more about us: sourceknowledge.com