Online marketing is a multi-purpose business development tool. It takes an array of different forms and can raise awareness of a company and its products, help to develop a quality brand and convince consumers or businesses to make a purchase decision … just to name a few. When it comes to the specific goal of driving sales, it's hard to beat one key type of online marketing —the performance-based variety, Here are some of the benefits:
Results are easily measured in a short amount of time
Many companies assess performance-based online marketing campaigns with multiple metrics, and performance marketing can easily accommodate that. For example, SourceKnowledge helped a Canadian online skincare company drive high-quality traffic to its online store and increase sales. Over only two months the results were:
Overall return: 2x RoAS
Overall conversions: 69
CPA: $22.92
Increased new users generated by 7.4
No uncertainty here — it's easy to measure and assess actual results with desired goals.
Expenditures are dependent on achieving desired objectives
For many companies, this is the best part of performance-based marketing —they're paying only when specific actions are completed. There's definitely a time for experimenting to see what works. But when you need demonstrable results on your goals, it's a clear choice.
The uber-important path to purchase is easily studied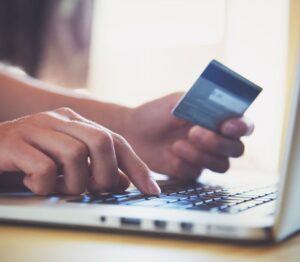 Some other forms of online marketing (like content marketing) are longer-term, more uncertain investments. With performance-based marketing, it is easy to both set and meet specific short-term sales goals such as Return on Ad Spend and assess the success of each campaign based on those criteria. Other popular measurement tools are Pay Per Sale (PPS) or Cost Per Acquisition (CPA).
Any retailer needs to understand the buying journey of its customer base. Where are they starting their journey? Which devices are they using? What important stops are they making along the way? What causes them to make their first purchase? These insights can brands make smart decisions. Performance-based marketing helps provide clarity to the purchase journey in several fascinating ways.
By partnering with SourceKnowledge to conduct performance-based marketing campaigns, for example, Canadian contact lens retailer PerfectLens was able to map out its customers' path to purchase and gain critical insights on shopper behavior. SourceKnowledge's attribution and reporting features captured both viewthrough (VTC) and clickthrough (CTC) conversions that were linked to order IDs in PerfectLens' inventory. That enabled PerfectLens to identify lucrative markets in eastern Canada and maximize its ad spend there instead of a significantly less-effective strategy focusing on Western Canada, which it had assumed would be its best market. Performance-based campaigns provide clarity to so many different critical aspects of any business.
It's high-intent marketing
With performance-based marketing, brands can hone in on shoppers that are most likely to make a short-term purchase decision. This short-term boost can also benefit a brand's long-term goals. That's because performance-based campaigns can help introduce consumers to a brand and prompt them to make their first purchase. but it also can incentivize repeat shopping. Either way, you're developing a loyal following.
It can diversify your online revenue streams
What's your company's online marketing mix? Employing a variety of different strategies can help your brand achieve greater brand awareness and results online and in some cases, off. Performance-based campaigns should be a part of that mix.
Thinking about leveraging performance-based marketing? First and foremost, successful performance-based marketing relies on high-quality and high-intent sources of traffic. Without that, brands simply cannot get the results they are looking for. Brands also must trust the data that's provided to them about each campaign that helps them evaluate their ad spend and make future decisions. Robust and accurate reporting is absolutely critical. SourceKnowledge offers a self-serve ad network that delivers highly converting traffic for performance-based campaigns with reporting information you can trust and rely on.