Have you ever wanted to create an online store from scratch but didn't know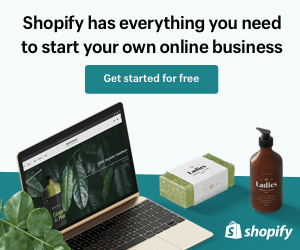 where to start? Keep on reading to learn how easy it is with Shopify!
Once you have your  business plan in place, it'll be time to choose a platform to build your online store. Deciding which e-commerce platform to use can be a difficult decision. There are multiple great candidates. Shopify, for example, is a great option as it has numerous benefits.
need is located in one dashboard from which you can manage it all. They even
offer a free 14-day trial so that you can test out the platform and make sure it's right for you.
Second, Shopify offers many themes that are responsive and customizable, making them easy to work with, regardless of your level of experience working with online platforms. Picking a theme for your online store is critical – visuals are key for attracting the eye. Your theme should also properly reflect your brand's image.
With Shopify, you can sell everywhere including online, point-of-sale, on a website/blog with a buy button, and on sales channels (social media, online marketplaces). This can help you grow your audience and increase your sales. Shopify also takes care of payments, secure checkout, shipping, and marketing allowing you to focus on what matters most.
Another factor to think about is any future assistance you may need once your store is up and running. Shopify offers 24/7 email, online chat, and phone support. So no matter the time or question, they'll be there to help!
Once you've selected your platform there are some other important elements to consider for your online store. High-quality photos of your products and detailed product descriptions are vital.
Since the products aren't tangible, the consumer will want to be well informed before purchasing. Uploading company information pages (about us, contact us, return policy, shipping etc…) can help with this too. Including testimonials, reviews, and social proof on your online store is a great way to assure customers of the quality of your products.  Finally, don't forget to engage in marketing efforts to help your store succeed. You can even consider influencers to promote your products and drive traffic to your online store. 
Shopify makes running your e-commerce store easy and simple, all while being affordable and accessible with its low pricing! Now that you've read this helpful guide, you can start any online store! Sign up with Shopify and create new opportunities.