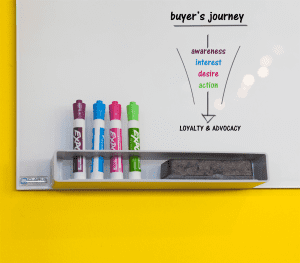 Any business that takes concrete actions to increase its customers has a prospecting funnel. A robust funnel makes the buyers' journey seamless and gives you greater sales, faster response times, and more revenue. Also called marketing funnel and conversion funnel, it illustrates a buyers' journey from prospect to customer in stages.
Marketers capture many leads and nurture them through these stages. The number of these prospects may reduce, ultimately narrowing down to the ones who purchase.
Different Stages of a Prospecting Funnel
You must understand the different stages of your prospecting funnel. Only then will you be able to check where prospects are dropping out and optimize the funnel so that they don't. The following are usually a prospecting funnel's four stages:
1. Awareness: Prospects become aware of a need at the awareness stage and search for methods to fulfill it. This might be the first time they are aware of your business. Help them by positioning yourself as a thought leader or mentor. 
Don't actively sell them your product/service. Instead, provide them with free, neutral content, including blog posts, e-books, industry research reports, and white papers. The content should address their needs and contain keywords, such as troubleshoot, improve or prevent.
2. Interest: At this stage, prospects show interest in all products/services that may satisfy their needs. They research different options and make comparisons. Guide their interest towards your product/service by using marketing techniques, such as display ads. Around 15-20 ads per user per month is optimal.If you pitch your offering well, prospects will click your ads and give you their personal information. Follow the Rule of 7 and ensure that prospects come across at least seven of your touchpoints.Also share more information, such as pricing details and pre-sales documents, with them. Sustain their interest by offering discounts.
3. Desire: Prospects are interested in checking if a certain type of product/service suits their needs. Fuel their desire and build trust by providing more information about your brand. Send them personalized content. Offer free trials or samples so that prospects experience the benefits of your offering.
4. Action: This is the most important stage in the funnel. Buyers decide on a solution that addresses their needs, but are unsure of which vendor to choose. Provide them with details that show why you are the best, such as vendor/product comparisons and testimonials. After they purchase your offering, thank them, and ask them for feedback.
Evolution of the Prospecting Funnel
The traditional conversion funnel has four stages—from awareness to action. However, the buyer's journey does not end at the action stage. After prospects turn into customers, you have to focus on retaining them.
Loyalty: Loyalty helps sustain business growth and profitability. Provide  great customer service and support so clients  are satisfied with your product/service and continue to use your services.
Advocacy: If customers are delighted with your product, they become its fans. They share positive reviews with others. Share such customers' social media posts and reply personally to their messages. Offer incentives for referrals, reviews, and testimonials. 
Understand the buyer's journey with respect to your product/service. Create and optimize a prospecting funnel accordingly. If you apply suitable digital marketing tactics at all its stages, you will be able to influence buyers.