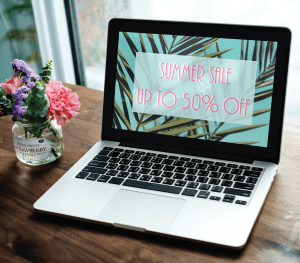 Flash sales are an old idea which has gained new traction in the age of e-commerce. The premise is simple: a retailer runs a sale which offers consumers excellent value for a very limited period of time. Many flash sales last less than a day, with the most successful on average clocking in at just under three hours! When it's over, it's over, and prices return to normal.
Flash sales, done right, can be stunningly popular. The sense of urgency created by the imminent deadline leads to urgent, impulse purchases. Just look at the stats for Black Friday and Cyber Monday for some examples of just how successful limited time deals can be.
Flash sales are big business, and consumers love them. But why should you, as a business owner, be interested in running a flash sale on your online store?
1. It increases conversions and sales
Urgency is a powerful tool, and can turn indecisive browsers into buyers in an instant. When customers know that a price isn't likely to last, there's a much greater chance that they'll take action.
Flash sales have been shown time and again to cause a spike in conversions, and quickly boost revenues. Indeed, industry analysts found that businesses which specialized in flash sales grew almost twice as fast as other e-commerce businesses over the course of a year.
2. A flash sale can manage stock
Flash sales are an excellent way to manage stock, with many businesses using them in the wake of public holidays to dispose of seasonal merchandise. This has the added advantage of giving businesses a boost during post-holiday periods that are traditionally a little slow.
It's worth noting that, with inventory-tracking technology, a flash sale doesn't have to be a time-limited event. Sales can run until a particular item is sold out, thus efficiently clearing out stock while also turning up the suspense (and the urgency) for potential buyers.
3. It makes your brand more visible
The same urgency that converts browsers into buyers also works on social media too. Consumers who discover a great deal in your online store are often keen to share it with their friends… before the sale ends! Flash sales often result in a spike in social media visibility – something that can benefit your brand in the hours and days after a sale has concluded, as well as when it's running.
Final thoughts…
Flash sales can be an extremely effective marketing tool. They generate an almost unrivaled level of excitement among consumers, and spur them to buy rather than browse. With some sales resulting in up to a 35% rise in sales, it's not hard to see why many online retailers opt to use them.
If you're considering a flash sale in your online store, it's vital to have a strong marketing plan in place to make the most of it. Flash sales offer customers a limited-time opportunity to get a great deal, but they can also be a brilliant opportunity for your business.